My family and I had a wonderful experience Saturday as we joined the Church activities to culminate the Family Week Celebration.
We enjoyed the 45-minute foot parade around the main thoroughfares of La Carlota. The band of selected pupils of La Carlota South Elementary School I led the parade.
Rebing, my wife was all smile as I took her picture while strutting along San Agustin Street just a stone-throw away from the meetinghouse.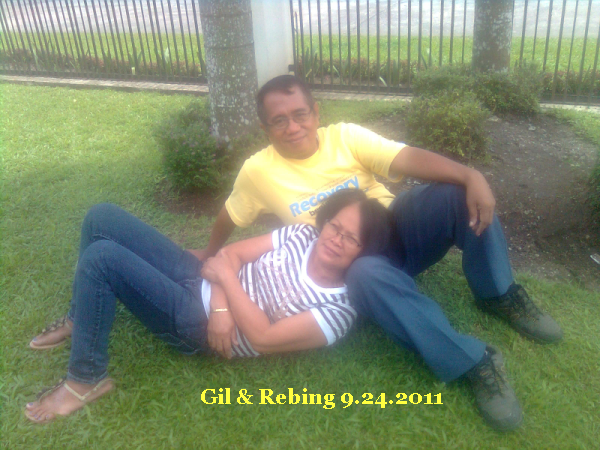 A moment right after the morning session, I playfully laid on the well-trimmed Carabao grass lawn of the meetinghouse to wait the members of my family outside. I was surprised when my wife joined with me and laid on my lap. I was happy and elated. Then followed my youngest son, Gilbor Junior who laid on his mom's side. My youngest daughter, Geeree took her turn too after her brother.
Gingging, Bryan, my grandson arrived then we took lunch outside together with my son-in-law, Almon, his talented 8-year-old daughter, Adgel to a humble restaurant. As every member of my family ordering their fave foods, I remember those good old days with my late parents. The happy moments as we ate outside our home.
Kasadya gid! Kanami Gid!
[It's enjoyable. It's satisfying!]
At the end of the afternoon activities, we posed for a posterity at the Family Week backdrop. Then we had a snack in one of the fastfood kiosk inside the agora market, 500 meters from the meetinghouse. My eldest daughter who was fetched by her hubby Almon with their tryke, joined with us this time.
We're done but time was still early. Then we proceeded to the plaza to pose for a souvenir picture there.
Our day is complete. What a happy and blissful occasion indeed! Family is really important. And I know my family could be together forever. What a blissful, wonderful expectation!