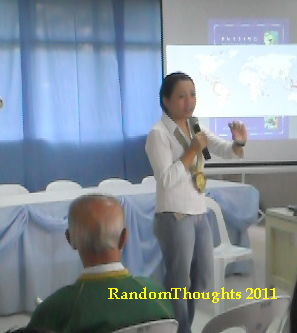 Paguntalan
La Carlota was the first local government unit in the province of Negros Occidental to initiate the symposium on biodiversity conservation in line with the Provincial Wildlife Month celebration.
"The biodiversity symposium is part of the Provincial Wildlife Month celebration that bears the theme "
Negrense on the forefront of conserving wildlife and forests
", told Lisa J. Paguntalan, Director for Field Operations, PBC Programme, Philippines Biodiversity Conservation Foundation Inc.(PBCFI).
She added that the main objective of the celebration is to generate awareness on the importance of forest and wildlife at the local level, with the main focus on schools and environment-related offices at the local government units.
Discussants
Presidents and advisers of 23 public elementary schools government with their respective school principals, 4 high schools in the Division of La Carlota, and the neighboring LGUs officials were among those who had been apprised on the value of forest and wildlife in their own locality in this half-day informative gathering at the function hall of La Carlota City, Tuesday, October 11, 2011.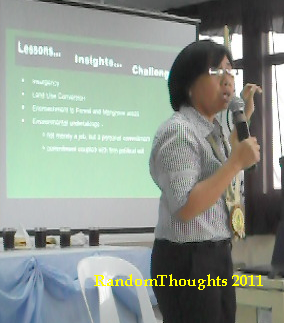 Seruelo
The symposium is anchored on the topics on Philippine Biogeography handled by Lisa Marie J. Paguntalan of PBCFI, and Relevant Environmental Laws presented by Rose Pablico of DENR-PENRO in the first part.
The 2nd part focuses on Biodiversity Conservation Initiatives of Provincial Government tackled by Olive H. Seruelo of PEMO, and on Initiatives of NFEFI expounded by Joanne Mae G. Justo, Curator-Veterinarian of Negros Forest and Ecological Foundation, Inc., (NFEFI).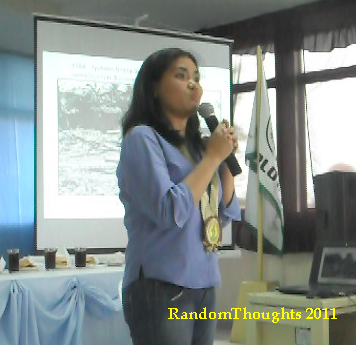 Justo
Exhibits were displayed at the public plaza of La Carlota.
Kudos to Mayor Juliet Marie D. Ferrer of La Carlota for having initiated the first LGU-led Conservation Symposium of the Provincial Wildlife Month celebration in her place.
More power!
For more information, click the following links
: