Before noon today our best friend Ursel who had been working in Hong Kong for several years and luckily settled there texted me that she'll take us for a lunch as her birthday treat for us. I informed my wife who readily prepared herself for such unexpected reunion.
As per instruction, we headed to the public plaza to meet Ursel. By and by I received a call from her that she's already waiting for us near the lady's comfort where we hurriedly proceeded there.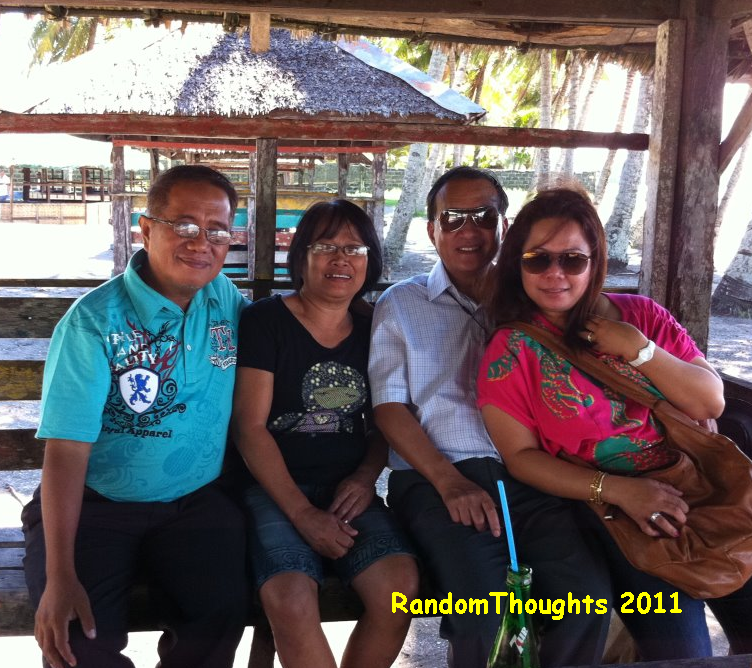 We hadn't seen anyone there. To our surprise, Hyundia SVU approached us, stopped in front of us. Then, the driver's window opened wide and we saw Ursel with a big smile. Rebing came nearer, hugged or had a
beso-beso
with her, then I followed through. We saw a man sitting beside her, whom she introduced to us as her hubby, a physicist, a Hong Kong professor.
She drove us looking for a cozy, peaceful eating outlet outside La Carlota. She kept on driving till we reached Pontevedra town. It's already past 12 noon when reached the resort at
Bulobitoon
beach with only a handful of excursionists there. We settled for a moment, looking for a food to eat just, but just to find no food in the canteen there.
We proceeded to the next place beach resort, Canonoy where there were foods to eat. While we're waiting for our order, we took one of the open cottages in the beach, where cool sea breeze is freely felt. There we exchanged some pleasantries.
I noticed that her hubby, Steve (
Stevenson Fung
) is a year older than us. According to him, he celebrated his latest birthday last September 6. He is a college professor in the University of Hong Kong. He is friendly. He could easy get along with his new-found friends like us. He has sense of humor. I jokingly asked him what do we have in common. He replied we're both educators. I am in the elementary school and he is in the higher academe. I am a school administrator. He is a professor in physics.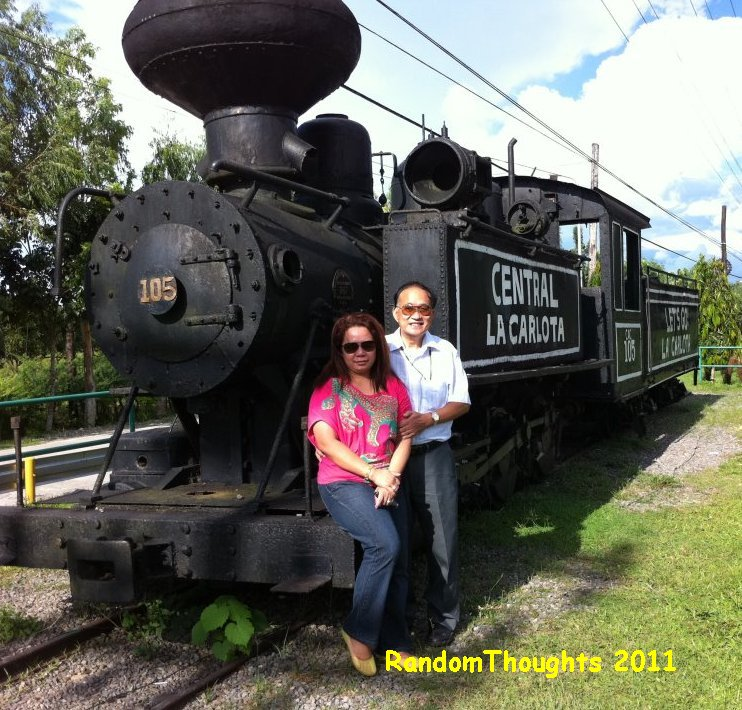 Past two in the afternoon, we ate our hearty lunch like
inasal na manok
, pork chops, grilled boneless
bangus
, sotanghon, several cups of rice, and soft drinks. We're full.
Earlier Ursel had given us surprised gifts. We're very thankful for her. We enjoyed their company. Ursel, our best friend, is still the same person whom we knew yesterday, today and even tomorrow, that's, we're sure and happy for that.
Ursel drove us home quarter to four in the afternoon. But before she finally brought us home, we dropped by at the entrance of La Carlota City to take some pictures of the oldest (1931) locomotive exhibited there. Then afterwards she headed back to Bacolod where they temporarily resided.
I remember a year ago when Ursel and I were chatting in the FB she jokingly mentioned that she will be coming to see us, but she's not sure of it as to when. Then this day unexpectedly she arrived and called us to join with her. Welcome home Ursel!