Twenty-Five years ago (sometime in 1990) my grade VI elementary school pupils in La Carlota Elementary School 1 had written some notes for me.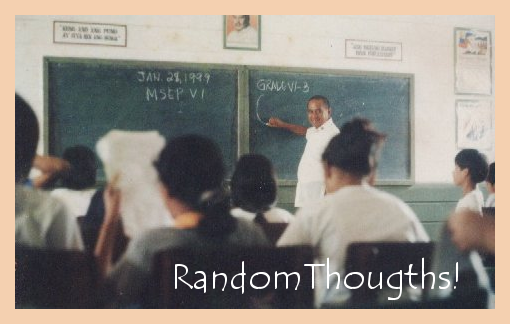 My teaching moment 25 years ago
Those notes which as of this posting time I still have them in my possession. I have treasured them. They are a true reflections of my calling, my profession as a teacher before.
I have read them once again to reminisce those good old and even better days of my teaching job. I want to recall how my pupils regarded me as their teacher for two decades and a half ago. I know every teacher in the different parts of the world would be celebrating the
World Teachers' Day
on October 5 in their own unique way.
Some of these thoughts of my caring and thoughtful pupils are the following (Just place the cursor over their name to see and read what they've written about me.)
To see the photo copy (scan) of their inspiring notes, click their respective name.
Ten years later (2005)
They are still communicating with me in Facebook. Some of them are already married. Some of them are working abroad.
I want to thank them for their love, care and thoughtfulness. They have made me a true teacher! They've inspired me.
Thank you, my dear pupils!
Related article
: